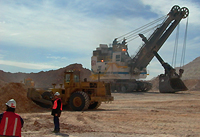 M1 Solutions has been committed to SAP and its products since 2000.
We work collaboratively with our clients to develop solutions that best align with their budget, environment and business strategy.  We then ensure that these solutions are successfully implemented and their performance assessed.
Our in-depth understanding of the mining industry coupled with our collaborative way of working with clients creates a successful working partnership.
We specialise in providing management, staffing and consulting services for SAP PM (Plant Maintenance) to the mining industry. The services we offer range from the supply of skilled maintenance staff to full maintenance systems builds and SAP PM implementations.
Our Professional Services are conducted in a way to ensure good knowledge transfer and self-sufficiency at the conclusion of the service.
Our M1 Consultants have many years of experience in the mining industry, SAP PM application knowledge, technology expertise and strong project management skills.

Download our Capability Statement (1.5 Mb)